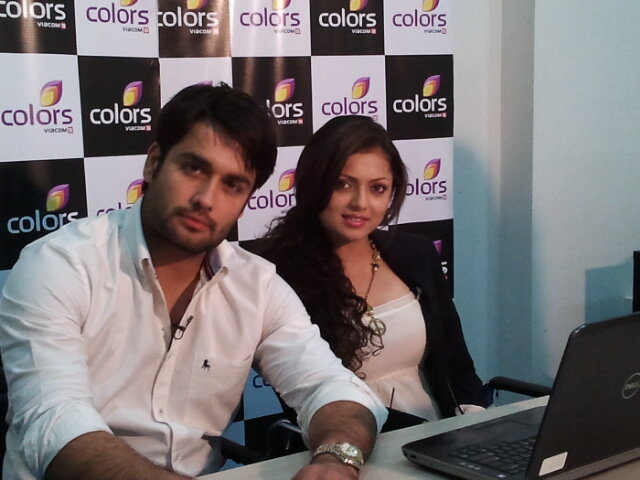 A live chat Qs &Ans with Drashti Dhami aka Madhubala &Vivian Dsena aka RK from Madhubala-Ek Ishq Ek Junoon with Colors TV yesterday...The jodi is No. 1 currently & poular among the masses winning all hearts with their magnetic charm & enigmatic romance...Unique love story ....Ahaan
Here are some of them the duo answered fabulously
1.I
s this show going to end soon like in 5 or 6 months later or you guys will keep it on air for many years like balika vadhu?
A-
Don't worry, we aren't going anywhere so relax.
2. K
ya RK aap real life may b aise he hai?????
A- N
o no, i make others cry in real life
3.
Vivian: my general observation is that tv actors are not that fitness conscious, what is your take on physical fitness? Drashti: Hi Drashti I am your big fan and love your acting ...same ques for you too i really want to know your take on physical fitness
A-
Very difficult for Tv actors to maintain since we have no time. doing a daily soap for 12 hrs is tough
4.
VIVIAN : YOU PERFORMING RK THE SUPERSTAR & RISHABH .. ARE YOU FEELING ANY INSECURITY BY PERFORMING RK AS RUDE..FANS NOT LIKE IT SO? WHAT IS YOUR OPINION ?
A-
we have already answered this question
5.
What's the 1 thing u both like n dislike about each other as co-actors??
A-
Madhu: What i like about Vivian is that he lets go easily, he forgets in 5mins. I dislike him because he keeps on making his hair before every scene!
RK: I have pokey straight hair so i can't help it! What i like about Drashti is that she's very professional. Some times i do lose it on sets but she calms me down. Bad thing is she's very snappy, kabhi bhi bhadak jaati hai
6.
VD,how much u have evolved as an Actor post PKYEK(big time fan)? Because over here your character have so so many shades,and RK never ever talks with himself so that audience would b able 2 know what he is thinking n that make RK even more mysterious. DD same one for u,though dis is the 1st time I am watching any show of yours. U r one the most stunning lady I have ever seen in my Life. DD what do you think that is MB character the most vital character u have played onscreen ever??? becauz as RKs character even your character is larger than life,strongest character in d show Now as the heroine track and the junoon track would be cumin in future we fans would be eager to c a great heroine of bollywud (which u are already of tellywud)
A-
RK: I was given a strict warning that i need to have a straight face since i was playing a vampire. Now when its RK i get to express more and obviously who wouldn't like to play so many shades.
Madhu: This character i am really enjoying every bit. I do have a lot of shades but in a subtle way and thanks for all the compliment!
7.
(1) did both of u ever been to acting school/ college dramas/school stage shows etc.? (2) how do u manage to complement each other so well? timing wise - expression & emotion wise - dialog delivery & humor - even attitude wise matching each other so perfect. (3) both are super actors, do u ever have ego clash like MB & RK on sets or during scenes as colleagues?
A-
Madhu: I have introduced some smart techniques to match our timing. We never had any ego issues as we gel well off-screen too.
8.
RK. Few questions. 1. Which has been the most easiest and the most difficult scene for you to perform as RK. 2. Which scene is your favourite and why? 3. How does it feel to play such a complex character like RK?
A-
RK: The Dabangg song has been easy. Any scene you see me talking beyond 3 pages is difficult. i find doing long scenes very difficult without a break.
9. RK
was taking revenge...wt abt all the imaginations tht rk use to have when he use to be alone,, was he fooling himself?
A-
That was a creative call, it was in effect with the twist...
10. Drashti
whats the funniest incident u ever met while shooting?
A-
Madhu: When I had to slap Vivian 4 times and i really slapped hard!
11.
Serni is back..more strong n more courageous...soo Madhubala won D best Drama series..how u feeling.?
A- Madhu:
2nd award so feels really nice. so yay three cheers to us, hard work is paying off!
12.
RK mujhe apse kehna hai, apne madhu ko kyun chod diya, aap ek saath hi bahot ache lagte hain, best jodi yaar, and madhu u r so lovely my mom also loves u very much, meri family sath milke serial dekhte hain, jaldhi se ek ho jaao, madhu apse kitna pyar karti hai, 4 thapad kya mare RK apne to badla liya uska, this is not fair, waise madhu jab aap roti ho na hum sab ro padte hain, please dont cry, ek baat kehni hi madhu apse " HUM HAIN DIWANE TERE DIWANEEEEEEEE"?
A-
That's so sweet! i know RK is behaving rude with me nowadays but what goes around comes around so just wait and watch!
13.
So what do u feel being to potraty the role of a villian and a hero in just one serial ?....Who is your favourite co-star in the show Madhubala??? And is your reel life character somewhat related to your real life character?
A-
RK:Bittuji is my better-half!
Madhu: he loves to be portrayed as a villian but Vahbbiz is the real RK. He just shows off in front of all of us.
14.
What do u think...Who iz more DOMINATING ??? MADHU or RK ??
A-
RK: what do you think guys? Madhu: he's like a child on sets and i am the one always screaming.
15.
What is common between RK n Madhu????
A-
In time and out time! also the chai! hahahah
16. DRASHTI
HOW DO YOU MANAGE IT AND TO ATTRACT AUDIENCE TOWARDS YOU??
A-
Madhu: my mom has done jyotishi long back and he had said I would do crying scenes really well. my mum took it as a joke but now she actually relates to it. her criticism helped.
17.
WHICH MADHU YOU LIKE SHERNI,SANSKARI,FUNNY,ROMANTIC,CARING,???
A-
Madhu: i like funny Madhubala but she hardly gets a chance to show her funny side..
18.
Vivian does it bother to you that due to writing of the show(for ex :your character turns negative again) you have to face the wrath of the fans ? I want to ask Drashti if someone would have betrayed you like this in real . how will you react then ? will you avenge it and how ?
A-
RK: It does affect us as you fans msg us that this twist is not cool, I shouldn't have done this to
Madhu. but since its a fiction show so that's how it is...
19. VIVIAN
what is your dream role? I meant in Bollywood! Please tell or which kind of role you wanna play in future! :) :) :)
A-
for me every role is a dream role and i try to give my 200%. Entire crew works really hard, i leave everything on destiny..
20. I
s there any moment.. or scene in the show. .which made u both break down ..?? As in a scene or a moment..which affected u in reality??
A-
Madhu: I don't think Vivian is like RK in real life and not even me. I would have rather slapped if in real life. 1 scene i did dil se was my current track when i break down and scream RK in chawl
21.
RK WAS TAKING REVENGE ..I THINK HE REALLY LUVS MADHU ...AM I RIGHT???
A-
so far he has taken the revenge, what happens next to know keep watching...
22. VIVIAN MEIEJ
me tum Madhu se rudely behave Isliye kar rhe ho bcoz u r suffering from some deadly disease is that true?
A-
RK is not suffering from any disease, so that's not true!
23.
Vivian..congrats on sweeping the awards shows this year.. u totally rock as RK ..! Wanted to ask u ... if there is one thing about RK that u could change. .what would it be?? Drashti .. loving u as Madhu ... and wanted to know if there is one thing about Madhu that u don't want to change.. what would it be??
A-
RK: I love RK the way it is, nothing I want to change.
Madhu: I am very happy with the character, in spite of all the crying!
24.
VIVIAN as we all know that he usually play pranks on everyone in the sets so i wanted to know, what was ur naughtiest prank and with whom you did it? And i wanted to ask from drashti that have u ever had a fight with vivian? or he has ever played a prank with u?
A-
He's only playing pranks on sets! He spits on bittuji!
RK: i don't spit, i just keep throwing water on him. I know he's scared of anything crawling so i have fun in that. Never played any prank on Drashti
Madhu: We have snappy moments but we forget about it.
25.
RK-Madhu
how was ur reaction ..when u found out about the twist of first the 4phere ki shadi.. n then this RK ditching Madhu at the altar??
A-
What the....this is it! This was our reaction and we too requested for the twist to not be leaked! hope u guys liked the twsit. We shot in 7 degrees so hope the efforts were liked by you guys!
26.
Drashti who is your favourite bollywood actor & actress ?
A-
Ranbir Kapoor, Salman Khan. Madhuri Dixit and Kareena Kapoor..
27.
Drashti best compliment u got from ur fan nor criticizing comment by fan?
A-
I take both in stride, i appreciate honesty...
28.
Hi Guys if u both ll send in BIG BOSS . wht ll u do with each other ......
A-
We will be the saviour to each other since we know each other well. Either we win or go psycho!
29. A
re you people not trying for movies ..if no what is the Reason?
A-
RK:humari shakal dekho, acting deko. For films we need to be talented ya!.
Madhu: I am very happy doing TV
30.
Till now, What has been the most difficult scene for both of you?
A-
Madhu: Initially, RK had not much dialogues but once we got married RK used to get 10 page scenes and I had no dialogues. I guess that was the most difficult! After a week, I had 1 scene with dialogues and RK didin't so yes he got bored then. Even the Balraj bit was taxing. Even the chaar pheras was tough
31.
Drashti n Vivian...and plz tell us about your first crush?
A-
RK: My chemistry teacher was my first crush. she was like Sush of Main Hoon Na.
Madhu: I was quite a tomboy but I remember i had gone to a trip with my parents and there was a firang boy. We used to play the whole day..
32.
Vivian, which avatar of RK was difficult to portray RK with attitude and ego or the lovable and sweet RK? Do you improvise the character of RK or portray it as per director & script's need? Drashti, if the character Madhu is allowed to inherit one of RK's characteristic; which one would it be?
A-
RK: I do a lot of improvisations, my mum has helped me a lot in my hindi. I try coming up with new ideas and if its liked i get to do it.
Madhu: I would totally love playing grey shades of RK. Can be bitchy if i want to..
33.
DRASHTI AND VIVIAN TELL ME BOTH YOUR FAV DESTINATION? TELL ME BOTH YOUR FAV COLOR ?
A-
Madhu: fifi islands, fav color aquamarine
RK: want to travel the whole world. Fav colors white and blue and black.
34.
Can u share what's the one thing u love the most about Vahibiz?? What's the most memorable day in ur life??
A-
What i love about Vahbbiz that she's quuite real on face. Memorable day was our wedding day, she is my dream girl and it was a good feeling to marry the love of my life..
35.
Vivian which favourite site,favourite colour,favourite place,favourite food/junk,favourite movie,favourite icecream,favourite actor/actress,ur deatination, i enjoy who is ur freinds and best freind?
A-
RK: google, white blue back, my hometown, fav food is dal chawal and fav junk food is KFC. Fav icecream matka kulfi. Best friend my wife Vahbbiz.
36.
Drashti if u got to be RK for a day ...what will u do?? VD .. if u get to be Madhu for a day..what will u NOT do??
A-
If i were RK then i would touch madhu's feet, ask forgiveness and take her out shopping!
If i am madhu i will do atyachaar on RK...
37. Yours real accounts on twitter?
A- @drashti10 & @VivianDsena01